Hi!
Well, my blog anniversary was yesterday. But I'm not going to celebrate it until I have 100 public followers. (doesn't include my four private followers. So, if you want to participate, and you are a private follower, I would suggest you become a public follower, as you can only enter the giveaway if you're a public follower) It'll be a two in one blog party.
So, there are a few things you can do:
Follow me publicly, if you aren't already.
Do a blog post on your blog about it (which will give you two entries for the giveaway when it opens) (not a "PS- there's going to be a giveaway at..." kind of post, an actual post solely on/for this topic)
Put this button on your blog:
That will give you two entries to my giveaway.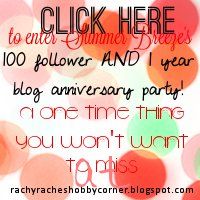 Or, tell someone specifically about my blog, and if they follow, you can get 5 entries per person you got to follow.
You can also sponsor my blog.
If you have an item you think someone on Summer Breeze will like, email me at rachyspenpals@gmail.com and let me know.
If you do sponsor, you can make a button for my sidebar (i will give you dimensions when the time comes) and I will put it up.
So, what are you waiting for?